The Bait and Switch of School "Reform"
David Sirota's The bait and switch of school "reform" on Salon.com begins with a refutation of the premise of Steven Brill's controversial book, Class Warfare
, but expands into an exposé of the motivations and goals of "altruistic" school "reformers." Sirota writes that "in the standard fairy tale sold as education journalism, these 'reformers' are presented as having had an honest, entirely altruistic 'epiphany' that led them to discover that 'the reforms that are necessary' (ie., only the policies Wall Street deems acceptable) comprise 'the civil rights issue of this era.'" He goes on to say, "The truth, of course, is that for all the denialist agitprop to the contrary, corporate education 'reformers' are motivated by self-interest, too," listing and expanding on the three biggest areas of self-interest:
Self-Interest No. 1: Pure Profit
Self-Interest No. 2: Changing the Subject From Poverty and Inequality
Self-interest No. 3: New Front in the War on Unions
Sirota doesn't give teachers' unions a complete pass, but finds that:
Corporate education "reformers'" self-interest, by contrast, means advocating for policies that help private corporations profit off of public schools, diverting public attention from an anti-poverty economic agenda, and busting unions that prevent total oligarchical control of America's political system. In short, it's about the profit, stupid.
Sirota's article has to be one of the best I've read about the motives of many school "reformers." I wish Sirota had gone on to ask and answer the question, "How do our President, Secretary of Education, and other politicians buying into corporate school 'reform' figure into this?" But then, I think he has already answered that question. "In Short, it's about the profit, stupid."
Paul L. Thomas's Navigating Education Claims: A Primer provides some related reading on the subject.
Going Technology Crazy
An article that appeared yesterday on USA Today about students using the Apple iPad made me smile a bit, as I ended up feeling the piece could have been written by Apple PR. To be fair, Alesha Williams Boyd does tell some interesting stuff happening with special ed kids in Adapting to the iPad, called education's "equalizer," but she comes off sounding as if she's shilling for Apple.
Common Sense: There's No App for That by Karim Kai Ani on Mathalicious gives a clearer picture of what we may be doing wrong in implementing new technology in the classroom. He writes that "while the iPad can and should replace textbooks, it can't replace common sense. Unfortunately that's exactly what's happening in education reform. We're focused so much on the device that we're ignoring what's on it."
And the editors of eSchool News have put together a 75-page collection of old postings, Education's Guide to Mobile Learning Devices (10 MB PDF document), that could easily replace Tylenol PM
as a sleep aid.
Comcast to Offer Cheaper Internet Service for Low-Income Families
NPR's Larry Abramson tells in Comcast Offers A Digital Lifeline To The Disconnected that the communication giant will offer "a fast Internet connection for $9.95 per month" to families with "a child who qualifies for the free school lunch program - that means an income of less than $25,000 a year for a family of three." Abramson notes that Comcast isn't "doing this solely out of the goodness of its corporate heart. The company promised to come up with just such a plan in exchange for government approval of its merger with NBCUniversal earlier this year." He goes on to tell some of the ins and outs of the program and the reaction from at least one political advocacy group that thinks the company needs to do a lot more in terms of additional support services for the poor.
Odds 'n' Ends
Special educator Pam G. Downing's First weeks of school important for children with autism on The Brownsville (TX) Herald is an interesting read about the transition of a pre-schooler with autism to kindergarten.
Education Week's Michele McNeil gives the skinny on Race to Top Runners-Up: Favorites and Underdogs.
Diane Ravitch's latest posting on the Bridging Differences blog, What I Did Last Summer, Part One, isn't to be missed. She writes that she "definitely felt like the skunk at a garden party" while attending the Aspen Ideas Festival where she debated Teach for America's Wendy Kopp. "Aside from me (and a few spouses who were teachers), the educators in attendance were leaders of the current reform movement."
Michael Moore's latest book came out today. Here Comes Trouble: Stories from My Life
is an autobiography that includes "a blend of personal reflections, history and politics." MSNBC has some incredible excerpts available online in "Here Comes Trouble": the life and times of Michael Moore. Since my wife is a huge fan of Michael Moore and I like sleeping indoors (Jeff Foxworthy line?), I already have a copy coming from Amazon!
I finished up my personal adventure in cost overruns yesterday. Refurbishing the "free" HP Slimline computer my wife brought home ended up costing $150 for parts, half of which was for an expensive, but more durable, 400W power supply for the box. (You can buy the same crappy power supply HP supplies for $20-30 plus shipping online, but it probably will only be good for a year or so.) A dual-core Athlon X2 processor and a wireless PCI adapter
rounded out the parts extravaganza. But the box looks nice, is pretty quick, and allows us to run applications under Windows 7, which none of our current antiques could do. The wireless card was the last addition to the computer, which allowed me to wind up and store the 50' CAT 5 cable I had strung from my upstairs office to the machine to provide temporary connectivity.

About This Tuesday Posting
I really hadn't planned to go back to daily postings here on Educators' News, as the Monday-Wednesday-Friday publication schedule was working out pretty well. But I felt the David Sirota article needed to go up today. Of course, posting today may actually just be an exercise in avoidance, as I'm supposed to be working on repairing the posts on our back porch. I'm using wood glue, water putty, and fiberglass to repair and reinforce the columns, but the resin and hardener for the fiberglass really stinks, and the stuff is super hard to work with. This is the second time in our seventeen years at this house that I've had to do this repair. Counting my previous effort just after we moved in as practice, I think I'm doing a bit better job this time around.
I'll just have to wait and see about education news this week and my writing inspiration, or lack thereof, before deciding when I'll update again.
And since today's posting is already loaded with embedded and overt advertising links, I think I'll just skip the usual ad banner here.
You lost me at...
The President continued his promotion of the American Jobs Act yesterday, speaking at the Fort Hayes Arts and Academic High School in Columbus, Ohio. Reversing a line from the movie Jerry Maguire
(You had me at "hello".), the President lost me at...
First of all, my outstanding Secretary of Education, Arne Duncan, is in the house.
That may be a pretty harsh and quick judgment of the President's proposals, many of which might turn out to be far less oppressive than he and Secretary Duncan's Race to the Top competitive contests for badly needed school funding. The Facebook Dump Duncan info page sums up my dismissive attitude of almost anything from the President on education:
Arne Duncan's policies are largely accountable for the public disrespect now directed at teachers by the media.

Duncan equates test scores with student learning, and thinks that scores should be used to evaluate teachers, even though experts in the field of education agree that this scheme is deeply flawed. With Michelle Rhee, Chris Christie, and others, he sits at the center of the "bad teacher..." myth.

When challenged by concerned, experienced educators who worry about his plans, Duncan and his office are largely dismissive. They don't want to hear from the experts they claim to want to lift up.
I'm all for using our unemployed labor supply to improve schools. Keeping teachers on the job is also a commendable goal. But the President's insistence on following the corporate school "reform" agenda of merit pay based on more and more high stakes testing, privatizing America's schools with for-profit charters, and he and Duncan's passive encouragement of the "bad teacher" myth makes me wary of any initiative from him. Even worse, his stance on education has given cover and encouragement to conservative ideologues such as Wisconsin Governor Scott Walker and Indiana's Mitch Daniels, who are both rather swiftly dismantling teachers' unions and public education in their states. Daniels frequently has pointed to his alignment with many of Obama and Duncan's education "reform" strategies.
On the Blogs
I've had Bulletin Boards to Remember on my list of blogs to follow this year. While an interesting and colorful blog (to teachers, anyway), I hadn't found an individual posting to share from it until I looked back over the postings from August. There I found the delightful Back to School.... A Different Take on Waldo from the Art at Three Creeks blog. It's a riot.
Adam Bellow shares lots of good ideas in his initial blog posting on Edutopia, Doing More with Less (and Other Practical Educational Technology Tidbits). From all the good advice about starting small in using technology in the classroom, I liked the following best: "Technology is not a list of ingredients thrown onto a lesson, but rather something that you should have kneaded and baked into the pedagogy."
Jim Horn's outrage at what is being attempted in the name of school "reform" in New Jersey practically leaps off the page in Christie and Cerf's Transparent and Ridiculous Plan. In a breathy, one sentence paragraph on Schools Matter, Horn assails the current attempt to privatize New Jersey's schools.
Having now moved on to hire a more polished corporate leech to attempt to dismantle New Jersey's public schools, the current Commissioner Cerf and his Wall Street team are attempting to create their own crisis to justify a complete charterization of public schools in New Jersey, while removing all regulations on charters and protections for teachers (such as tenure rights for charter school teachers) that might hinder the benefits to the hedge funders who are lined up behind this corporate reform schooler plan.
Come on, Jim. Don't sugarcoat it. Say what you mean!
Joanne Jacobs concludes Foundation opens its own charter school, "They're going to burn out their teachers very quickly. The kids too."
Zachary Chase's Things I Know 223 of 365: Everybody has an agenda on Autodizactic gives a great example of the differing agendas of students and the teacher in "circle time."
One Sunflower's Enchantment posting tells of pleasant hours spent in the children's section of a bookstore selecting books to buy or put on hold at the local library for her preschoolers. She writes:
Often I find good stories – with lousy pictures – or vice verse. This is going to sound very critical but I've found that many of the books that win awards are made for children who have wonderfully literate English speaking families, or they are made for adults.

That is why I've become such a hunter of books.
You had me at...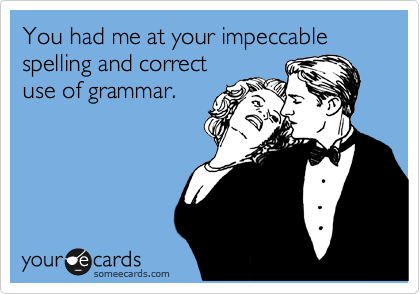 I couldn't resist working in the "You had me at...," "You lost me at..." movie quote reversal in the lede today. Later on, while looking for yet more teacher blogs to include in future postings of this section, I came across the ecard at left on a Grammar Wednesday posting on A Teacher's Education. While the ecard really didn't fit the posting about President Obama's speech in Ohio, it was also too good to leave out today. (There's another cute graphic in that section that is definitely worth a click.)
Despite the blogger's (Mrs. Chili) self-description as an "English teacher, reader, writer, all-around lover of language and its eloquent use" and my propensity for leaving dangling prepositions, I've added A Teacher's Education to my list of blogs to follow for this school year. Mrs. Chili writes well, is interesting and seems to possess a good sense of humor. And she often adds heartwarming posts such as her recent I Love Them.
I like the title, The Voice of Doom, on Bluebird's Classroom. "The voice" is, of course, that of the principal coming over the loudspeaker, calling off a list of names of students who are to report to him/her. While Mrs. Bluebird writes about the seventh graders who still need proof of vaccinations, I found the posting interesting, as at times, I used to find it difficult to teach because of all of the interruptions from the office.
I'd sent an email to Tara, author of the excellent What It's Like on the Inside blog, about the emails she must be receiving from her current Roll Your Own Gradebook series (latest post: Gradebook in the Cloud). Having posted A Roll-Your-Own Spelling Program in 1999 and Growing Geraniums from Seed in 2009, I well knew some of the the hits and responses she might be receiving to the creatively titled posting. (The geraniums article, it turns out, in giving step-by-step directions for germinating geranium seed on paper towels, documents a preferred germinating method for marijuana growers!) Tara's response to my email was delightful:
I am no stranger to disappointed searchers, having a "Big Double D's" post and one on "Kinky Teachers." Both of which are completely safe for work/appropriate for the school setting...but I always laugh, imagining the sad looks on the faces of people hoping for something other than pedigree charts and educators who work on the weekends.
Windows 8 Unveiled
One day after I finally finished upgrading a computer to run Microsoft's latest and greatest, Windows 7, I find that I'll soon be outdated again. CNNMoney's Microsoft unveils a radically redesigned Windows 8 tells of the developer rollout for Windows 8, expected to be available sometime next year to the general public. At least Apple isn't promoting the successor to Mac OS X 10.7 Lion as yet. I think they're a bit too busy chasing down bugs in their latest release, possibly their worst OS release since the horrific Classic 8.5 release.
Odds 'n' Ends
Other interesting stuff around the web today:
I'll be getting back to our regular publication schedule (Monday-Wednesday-Friday), taking tomorrow off and not posting again until Friday unless something really juicy comes up.
Yeah, I said I was taking today off, but...sex ed bubble tests?
Bill Turque reports that the District of Columbia Public Schools will begin standardized testing of students to "measure what they know about human sexuality, contraception and drug use starting this spring." In D.C. schools prepare for nation's first sex-education standardized testing, Turque relates that the test is the DCPS administration's response to "the Healthy Schools Act of 2010, which the D.C. Council passed to address health issues in the 75,000-student system." Concern over the District's high rates of childhood obesity, sexually transmitted disease and teen pregnancy prompted the measure, although "the legislation's sponsor, council member Mary Cheh (D-Ward 3), said the law requires only that the District produce an annual report describing progress on student health concerns." Turque quotes Cheh as saying, "I had a much-less-rigid interpretation of the reporting idea," but added that she didn't necessarily object to the test.
Valerie Strauss adds her slant on the announcement in D.C.'s new sex ed standardized test: Fodder for a Jon Stewart skit:
The legislation's sponsor, D.C. Council member Mary Cheh, a Democrat representing the city's wealthiest ward, says she didn't anticipate the geniuses at the school district (my words, not hers) would come up with a standardized test to meet the requirement.

She figured they would find another way but, alas, she was underestimating the obsession for standardized testing that drives school reform in the District and across the country today.
Noting the seriousness of the issue, Strauss also writes that the time and money invested in creating and administering the tests might be better spent training teachers and developing materials "for students to really learn the health challenges facing them."
Update: Bill posted some additional information on the new testing around noon today, New details on the health/sex test. He relates that the program is now being called a "pilot," something not previously mentioned to him. His conclusion:
So, just to review: No data for parents. No accountability for teachers. Why is this a meaningful tool?
Odds 'n' Ends
I couldn't help myself when I saw Bill Turque's article. I sent him a quick email with the barb, "Are you sure the piece wasn't supposed to go to The Onion or the Borowitz Report? And actually, he did a nice job of clear, objective reporting in it.
Paid the Rent
I'm really not sure I'll be around that long (online or physically
), but I just renewed our webhosting services with Hostmonster for another three years. Over the last two years with them, we've had excellent service with only one one minor outage. Their accounts also allow one to stack multiple domains in one account, saving us some serious bucks as we have mathdittos2.com, educatorsnews.com, and senior-gardening.com on the account.
NBC - At It Again
An email late yesterday afternoon from Education Nation's Sarah Tepper invited me to "Join NBC News Anchor Brian Williams for the LIVE Teacher Town Hall web chat" to "tell decision-makers about YOUR experiences in the classroom. What works? What doesn't? How are you making a difference?"
That all sounds pretty good until one remembers the sham of a teacher town hall meeting NBC conducted a year ago, later presenting an unrepresentative video of teachers' views on the Nightly News. Teachers like me who shared experiences where tenure helped make a difference for our students were shut out of the discussion. It was clear after the dust had settled that Brian Williams and education reporter Rehema Ellis were clearly in the corporate school "reform" camp and were tailoring the event to support its views.
Last month, Alexander Russo apparently drank the NBC kool-aid and decided to give the network another chance by writing NBC's Newer, Better "Education Nation 2011". Russo, while admitting that last year's event was stacked with "reformers" insuring its onesidedness, hopes NBC will "make these into probing discussions among equals with different views on what needs to be done and leave room for some unexpected moments and eye-opening exchanges."
Fool me once, shame on you, fool me twice shame on me.
I resisted the immediate urge to tell young Sarah to go do something physically impossible to herself, instead replying in an email that last year's experience had cured me of any inclination I might have had to participate in any NBC Education Nation event ever again. If you were similarly offended by NBC's slanted coverage and reporting last year (and all through the year on their Nightly News), there is a contact/response page on the Education Nation site where you may register your views.
NASA Announces Discovery of a Circumbinary Planet (a planet orbiting two stars)
NASA's Kepler Mission Discovers a World Orbiting Two Stars relates:
The existence of a world with a double sunset, as portrayed in the film Star Wars more than 30 years ago, is now scientific fact. NASA's Kepler mission has made the first unambiguous detection of a circumbinary planet - a planet orbiting two stars - 200 light-years from Earth.

Unlike Star Wars' Tatooine, the planet is cold, gaseous and not thought to harbor life, but its discovery demonstrates the diversity of planets in our galaxy. Previous research has hinted at the existence of circumbinary planets, but clear confirmation proved elusive. Kepler detected such a planet, known as Kepler-16b, by observing transits, where the brightness of a parent star dims from the planet crossing in front of it.
The Yearbook Committee
My wife, Annie, and I went into town last night to watch the Yearbook Committee perform at the Sullivan Corn Festival. The Corn Festival is one of those nice, small town events with rides, lots of wonderfully delicious unhealthy food, and free music. The Yearbook Committee describes themselves as "a collective of sorts" with "no lead singer, no sole songwriter: Just a group of musicians with one common goal; to write, record, and perform music."
The Yearbook Committee did two great sets in some really chilly weather, ranging from folk music to some hard driving numbers that had the crowd on their feet dancing. As described on their web page, the group plays lots of instruments, including whiffle ball bats and five gallon buckets! And it seems like almost everyone in the group plays at least three instruments!
The highlight for Annie and I was watching Rachel Rasley (with french horn in the image at left) sing the lead on a novelty song she and her husband, Eric, wrote, Watermelon. Rachel roomed with one of our daughters, is a great song writer and performer, besides just being a beautiful person. Besides Watermelon, the group did an incredible cover medley of Paul Simon's You Can Call Me and The Proclaimers' 500 Miles.
Future gigs for the group include:
• Friday, September 23: Moggers Brewery in Terre Haute, Indiana
• Friday, September 30: Refuge Coffee Bar in Cincinnati, Ohio
• Saturday, October 1, The Avenue Lounge & Patio in Covington, Kentucky
Annie had her video camera with her and recorded a live version of Watermelon.

Odds 'n' Ends
It's been a long week. Looking back at my postings this week, I quickly realized that the lead story four out of five days was something negative. That's not a record I aspire to or am proud of. I really do hunt for feel good stories about education such as the one I led Monday's post with.
For the English teachers reading this posting: Yes, that's three, count 'em, three uncorrected dangling prepositions in one paragraph! I'm wrong and proud of it. With that kind of an attitude, I'd fit right in with the school "reform" crowd.
I guess with all the aggressive, rude, inaccurate pushing of the school "reform" crowd, I feel much as Deborah Meier expressed in her Bridging Differences blog post yesterday, New-School-Year's Reflections:
The frustration, sorrow, and down-right fury I feel day after day at the way we are messing things up for ourselves, our children, our grandchildren and, most of all, our great-grandchildren is not good for me.
She also wrote of her trip last week to Indiana, speaking to and listening to teachers:
I'm reminded today that in the absence of serious (controversial) history teaching few people will understand how the presence or absence of job security—with all of its scorned "union" protections—makes or breaks democracy. I was painfully reminded of it during those four days in Indiana as teacher after teacher acknowledged their own nervousness about keeping their jobs. (The new-reformers would see this as good news, I guess.)

Would I have survived as a teacher under such circumstances today?
It's a good question. To those of you surviving in the classroom:
Have a great weekend! You deserve it!
Appreciate the content on Educators' News and mathdittos2.com?
If so, why not come back and click through one of the links from our affiliate advertisers the next time you plan to purchase something online. We'll get a small commission from the sale, and you won't pay any more than you would have by directly going to the vendor's site.
Ads shown on this site do not represent an endorsement or warranty of any kind of products or companies shown. Ads shown on archive pages may not represent the ads displayed in the original posting on Educators' News.